Terror: Truck Crashes into Crowd Celebrating Bastille Day, At Least 60 Dead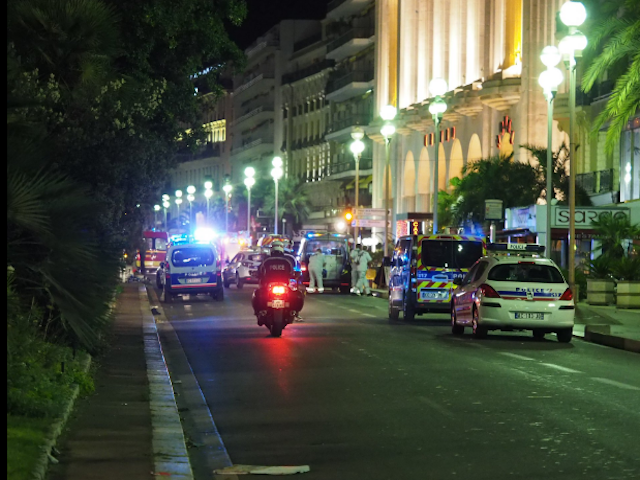 Sky News is reporting that at least 30 people have died during Bastille Day celebrations in Nice, France after a truck ran into a large crowd. Police have announced they are treating the incident as "an attack."
Update 7:22PM EDT
Donald Trump postponing announcing his VP running mate due to France terror attack.
Update: 7:11PM EDT
: Journalist Damien German has posted his account of being on the ground in Nice during the attack on the forum
Medium in French
. He recounts in part:
In the distance a noise. Shouts. My first thought: a delinquent wanted to fire his own little fireworks and has not mastered how to do it… But no. A split second later, a huge white truck was traveling at breakneck speed over people…

This truck of death passed a few meters from me and I did not realize it. I saw bodies flying like bowling pins in its path. Heard noises, screams that I will never forget. I was paralyzed. I did not move. I followed this hearse with me eyes. Around me, there was panic. People were running, screaming, crying. Then I realized. And I ran with them…

Blood. Groans. Sunbathers [on the beach near the promenade] were first at the scene. They brought water to the wounded and towels they filed where there was no hope. At this time, I lacked courage. I wanted to help, to be of service… in short to do something.

But I did not succeed.
Update: 7:02PM EDT
: Le Monde
reports
that the Interior Ministry cannot confirm rumors that grenades or explosives were found in the truck, which are circulating in French social media.
Update: 6:56PM EDT: According to the outlet Le Figaro, the current death toll stands at 73:
Update: 6:52PM EDT: A Facebook user uploaded a video that shows the moment the truck began driving through the crowd:
Update: 6:46PM EDT: Video of assailants shooting at police has now surfaced on Twitter (Warning: Graphic):
Update: 6:41PM EDT: French Interior Ministry spokesperson denies that an ongoing hostage situation is occurring.
Update: 6:35PM EDT: France's iTele is now reporting that a man hiding in a restaurant nearby, believed to be involved in the attack, has been killed.
Update: 6:35PM EDT:
Witnesses
are now confirming
that they saw police shoot the driver dead after he ran out of the truck. The Daily Mail
is reporting
that there were multiple gunmen, and that some eyewitnesses say that hostages were dragged into various locations near the celebrations. The newspaper is citing the Meridien Hotel, the Hotel Negresco and the Buffalo Grill restaurant as hostage locales, though officials have not confirmed this.
Update: 6:22PM EDT:
Nice's prosecutor's office has raised the death toll to 60,
according to reports
.
Update: 6:17PM EDT:
France24 is reporting that the driver of the truck is dead, though it has not been specified whether he was killed by police or killed himself in the attack.
Eyewitnesses say
the driver ran out of the truck after plowing through the crowd and began shooting. ""Everyone was calling run, run, run there's an attack run, run, run. We heard some shots. We thought they were fireworks because it's the 14th of July," an eyewitness told France's BFM TV,
according to a BBC translation
.
A reporter on the ground says at least one shooter is still on the loose:
The Telegraph
adds
that several eyewitnesses have confirmed that they also heard gunshots coming from the truck, confirming the nature of the incident. Various Twitter users have contributed photos of the truck allegedly involved in the incident. In an emergency press conference, Nice Mayor Philippe Pradal has confirmed that "tens" are dead, though he could not provide a more specific number at the moment.
Nice's Promenade des Anglais, where the attack took place, is
known
for its prominent Bastille Day celebrations
Photos are also beginning to surface of the aftermath of the incident. Bodies can be seen mangled and strewn across the street Warning: Graphic Images Below: