Religion of Peace
Atrocity of the Week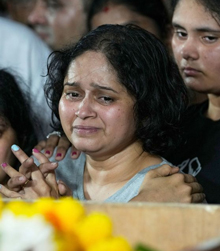 15-Year-Old Beheaded for
Listening to Pop Music
Other Recent
"Misunderstandings
of Islam"
2016.02.24 (Libya)
A dozen local security agents are captured and beheaded by ISIS.

2016.02.22 (Afghanistan)
A suicide bomber detonates near a clinic, taking thirteen other souls with him.

2016.02.21 (Syria)
A double-bombing by ISIS along a commerical strip leaves nearly sixty dead and two-hundred burned and battered.

2016.02.21 (Syria)
Children are among the eighty-three destroyed by a horrific suicide bombing outside a Shiite shrine and school.

2016.02.19 (Cameroon)
Four Shahid suicide bombers massacre twenty-four others at a market and a nearby school.

2016.02.18 (Israel)
A 21-year-old father is stabbed to death in a supermarket by Palestinians.
(Note: Data for each attack is sometimes pulled from multiple sources. The provided link may not be in complete agreement with the updated detail for the incident).
Countering
Islamic Propaganda