– Daily Beast 'Comedian' Dean Obeidallah's Reaction When He Learned It Was Muslims, Not 'Far Right' Activists Who Mowed Down A Muslim Woman In Brussels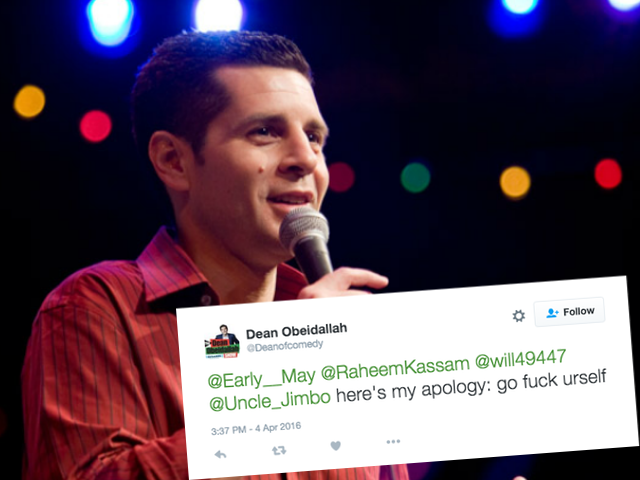 CNN and Daily Beast contributor Dean Obeidallah told a Twitter user to "go fuck yourself" after he was asked to apologise for spreading a false story about "far right" activists and a hit and run attack on a Muslim woman in Molenbeek in Brussels.
When confronted with the truth behind the falsely reported story that Mr. Obeidallah tweeted out on April 3rd – the Sirius XM host of the Dean Obeidallah radio show reacted angrily, first implying that no reputable news outlets had updated their stories to reflect the fact that the two men who ran over a Muslim women in Molenbeek this weekend were Muslim youths, not far right activists.
Breitbart London's Editor in Chief Raheem Kassam provided Mr. Obeidallah with the facts behind the article, citing a Times of London story which included the attacker's names – Mohamed B. and Redouane B. – as well as showing that the Daily Mail website had changed its headline shortly after Breitbart London reported that its story was false.
When asked by Twitter users if he would apologise, Mr. Obeidallah told them to go fuck themselves:
The incident has been seized upon by "anti-Islamophobia" campaigners, many of whom have since failed to correct their original assertions, claiming that the attack was perpetrated by "far right" activists.
Breitbart London has reached out to CNN and the Daily Beast, where Mr. Obeidallah contributes, for comment on the matter.